onsemi's IoT solutions make your life and your work amazing. We have BLE and Wifi connectivity , Sensing devices , high efficiency power on IoT App . Let's move on to enjoy the IoT convenience.
onsemi IoT Solutions
Design and deploy the most energy efficient Internet of Things (IoT) solutions through a wide array of industrial grade connectivity, sensing, control and power management solutions from onsemi.
Our expansive sensor portfolio includes image sensors and battery-free wireless sensors. Our extensive selection of the industry's lowest power wireless (PAN to LPWAN) and wired SoCs and transceivers are ideal for IoT applications. Robust solutions for motor control, protection, and power management and battery management complete the comprehensive coverage from onsemi.
Connectivity is what enables the "I" in the Internet-of-Things (IoT). From wired connectivity solutions, prevalent in industrial settings, to wireless solutions, popular in consumer areas, there are many options available to system architects. Attributes such as data rate, range, throughput, supported topologies, security, and energy efficiency all need to be taken into account
onsemi offers a wide range of ultra-low power, robust, best-in-class Rx sensitivity transceivers, and System-on-Chip (SoC) and System-in-Package (SiP) solutions to cater to various IoT applications. Our solutions span short range wireless technologies, including Bluetooth® Low Energy, Wi-Fi and the Green Power™ protocol, as well as longer-range technologies. With best-in-class energy efficiency, solutions from onsemi enable the creation of long battery life IoT devices. Fully certified stacks (ETSI, FCC, etc.) and development tools significantly reduce time-to-market in deploying IoT solutions.
onsemi has BLE , Wifi and ZIGBEE for connectivity !!
Sensing solution  form a critical part of most Internet of Things (IoT) solutions. onsemi has the broadest portfolio of industry-leading image sensors. Image sensors from onsemi enable and address the needs of several 'Vision IoT' applications within industrial, consumer, and medical segments. A broad portfolio of pixel resolutions and sizes, combined with technology leadership in global shutter, HDR (High Dynamic Range), Near-IR, LED Flicker Mitigation, etc., provides unmatched choice in picking the right sensor for your application.
onsemi also offers a wide array of temperature, ambient light sensors, and proximity detectors. Complete system platforms with ultra-low-power connectivity and innovative power management round out our sensor portfolio.
onsemi is the w.w leading image sensor provider !!
IoT power management is also important to make the IoT application come true .Whether an Internet-of-Things (IoT) device is battery powered or wall powered, the choice of power management components has a direct bearing on the overall battery life or the energy efficiency of the device. In the case of battery powered IoT, efficiently managing both wake and sleep duty cycling is critical to meeting a 10-year+ battery life (primary cell) or significantly extending recharge (secondary cell) cycles. In addition to higher efficiencies during active modes, an ultra-low quiescent current is critical in ensuring a long battery life. With the projected IoT devices numbered in billions, even wall powered devices benefit from use of energy efficient power management components. onsemi is an industry leader in energy efficient power management devices. We offer a comprehensive selection of DC-DC, LDO, PMIC, AC-DC, and PoE product portfolios, with world class efficiency, quiescent current, noise, and PSRR performance. For example, the NCP170 LDO Regulator consumes only 500 nA of quiescent current, while providing 45 db PSRR at 1 kHz, and sub 50 mV load transients. The NCP1568 Active Clamp Flyback Controller achieves over 94% efficiency at 60 W. Our LC709203F is the world's lowest power Li-ion fuel gauge, drawing only 3 µA of active current. And the NCV6500 15 W Qi wireless charging transmitter (Tx) is best-in-class for efficiency (>75%), with Foreign Object Detection (FOD).
onsemi has USB Type C solution and ultra -High PSRR LDO complete solutions !!
onsemi provides configurable, end-to-end, rapid prototyping platforms for the Internet of Things (IoT). These platforms enable development of energy efficient solutions for smart homes/buildings, smart cities, industrial IoT (Predictive Maintenance, Asset Monitoring, etc.) and personal IoT (Wearables, activity monitors, etc.) Offering a wide range of choices including configurable hardware, multiple cloud connectivity, easy-to-use development software, and application examples, these platforms reduce time-to-market and allow rapid deployment of IoT-enabled products.
For the details , you can visit onsemi IoT web to enjoy the complete IoT travel !! 
https://www.onsemi.com/solutions/internet-of-things-iot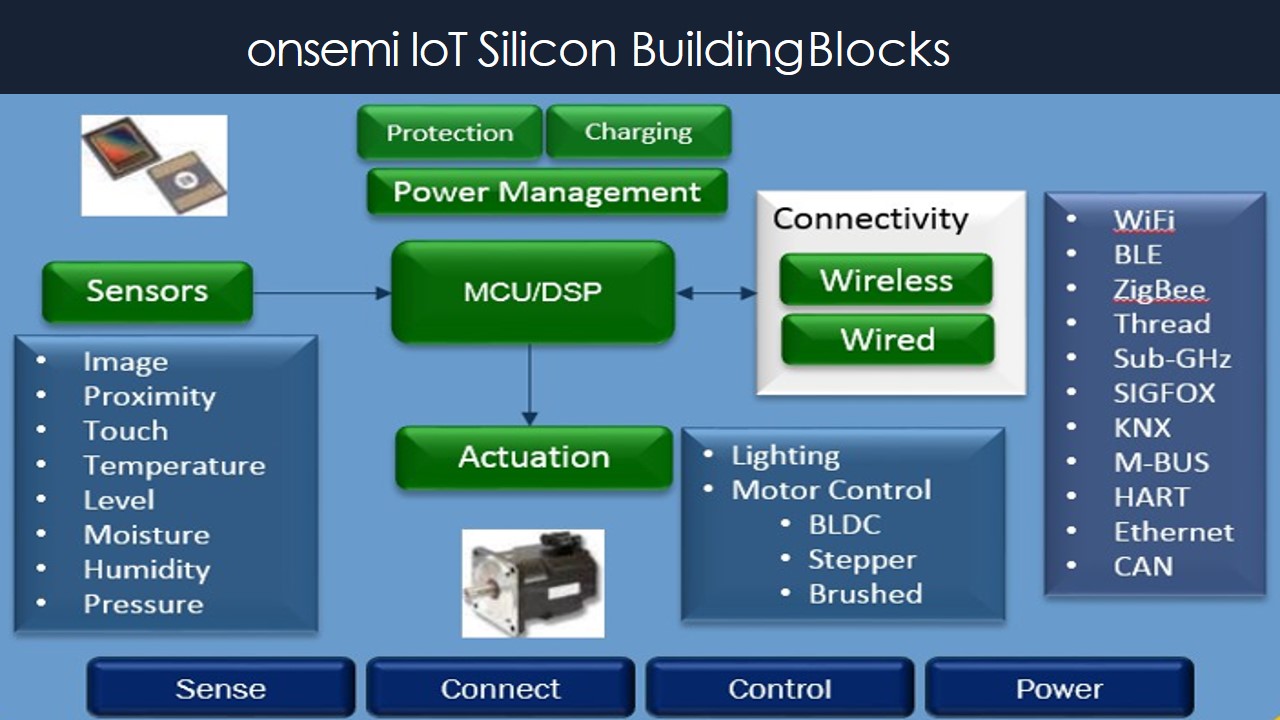 onsemi BLE Solution
(1)RSL10 technical Material 
(2)RSL10 Seminar Vedio
onsemi Wifi 6 Solution